---
ISENHOWER CELLARS
Walla Walla, Washington
---
Rousanne
Snap Dragon
Cabernet Franc
Last Straw Red Wine
Merlot Red Paintbrush
Syrah Wild Alfalfa
Official Site:
http://www.isenhowercellars.com/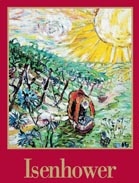 Denise and Brett Isenhower produce unique wines that reflect the essence of the vineyards of Eastern Washington. The individual wines are based on
Cabernet Franc, Cabernet Sauvignon, Grenache, Mourvèdre,
Roussanne, and Syrah respectively.

Seeking a life that harnessed their combined backgrounds in chemistry and business, Denise and Brett Isenhower spent two years researching where to make wine in the Western United States. Washington was selected because it is the most entrepreneurial region to craft world-class wine. In 1999 the Isenhower's founded Isenhower Cellars in Walla Walla because it is the most attractive town in Eastern Washington.

Denise and Brett built their winery in 2002 on six acres of farmland south of Walla Walla. The initial planting of the Isenhower Estate Vineyard was two acres of Malbec (2008) with more acreage to follow. The Isenhower's long-term goal is to grow half of their own grapes and purchase the remainder from their outstanding vineyard partners.