---
---
Chianti Colli Senesi
Rosso di Montepulciano
Vino Nobile di Montepulciano
Vino Nobile di Montepulciano Riserva
Vin Santo
Official Site:
http://www.cantinalombardo.it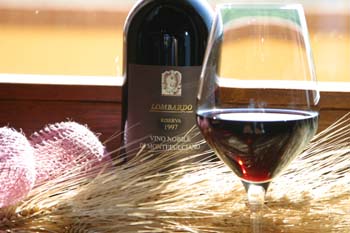 Situated in a beautiful location on the hills overlooking Montepulciano is the Azienda Lombardo. Founded in 1972 by Antonino Lombardo, father of the now owners - Francesco and Giacinto it recently completed a large refurbishment.
Consequently now in production is the new 10 hectares (9 of which are dedicated to the Vino Nobile di Montepulciano) which was planted in early 1999.
The 30 hectares vineyards of the farm are divided into different zones: Caggiole, Confino and Gracciano. These zones are specialised and have different soil composition - full of sandstone at the Caggiole , good for elegant, full of bouquet and non tannic wines; and at the Confino and Gracciano zones, instead , a rich in clay soil - which produce very powerful and tannic wines that need to be controlled with wood and proper cures. The two owners divide the running and management of the farm: Francesco takes over the commercial side and, with the help of Dr Luccherini, the cure of the wine in the cellars, whereas Giacinto manages the work on the field and in the vineyards.
The farm has been deeply transformed with the extension of the fermentation, bottling and refining areas, and the construction of new offices, tasting and sales room. However the farm believes it will now be perfectly balanced between new technologies and the respect of time-honored tradition.