---
ROZENDAL FARM
Stellenbosch
---
Rozendal
Rozendal Reserve
Official Site:
http://www.rozendal.co.za/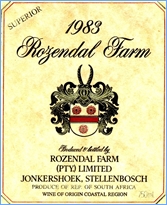 Situated at the gateway to the Jonkershoek Valley in Stellenbosch, we offer the tranquility of country life with the convenience of the proximity of the Stellenbosch village.
Rozendal has been farming organically since 1994 and have for the past two years been using the biodynamic approach in both our winemaking and farming.
We make a Merlot-based Bordeaux blend (St. Emillion) in the classical old French style. Our wines are low in alcohol, compared to most wines in South Africa and have a good acidity and freshness. Although we make only one wine, each year is unique and each wine has its own individuality.
Our wines are made biologically with as little intervention as possible. We do not filter our wines and maturation of our wines (not ageing) takes place over two years in oak barrels. No sulphur is added during fermentation and minimal thereafter. Instead we work with the natural acidity of the grape to create a wine able to mature as opposed to ageing. The wine is kept for one year at 18 degrees Celsius and for one year at 15 degrees Celsius. We have also replaced our stainless steel tanks with large French oak vats for fermentation.
Our first vintage is 1983 and our latest available vintage is 2002. We have a selection of the older vintages available on request.