---
FELIX CALLEJO
Ribera del Duero
---
Cuatro Meses en Barrica
Crianza
Reserva
Gran Callejo Gran Reserva
Family Reserve
Seleccion
More Info:
http://www.qualitywinesofspain.com/CALLEJO.html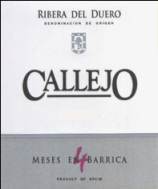 The Felix Callejo family has been growing grapes for 4 generations in Sotillo de la Ribera with little changes. Grapes are still carefully tended, selected and handpicked. The family owns 60 Has in Sotillo de la Ribera, the very heart of Ribera del Duero, planted with some of the best vines in the region. The age of the vines range from 25 to 50 years.
Yields are limited naturally by the hard continental climate and a poor soil of low fertility. On top of that Jose Felix, the winemaker does an strict green prunning and selection, an average of only 8 bunches are allowed per plant. The maximum yield obtained is 4000 kg/Ha.
Tinto Fino is the native Tempranillo grape variety found in Ribera del Duero. The variety is structured, elegant and complex, giving rise to high quality wines. Clear sunshine during the day and cool night-time temperatures are the ingredients that yield these healthy, rich colored grapes packed with sugars and fragrant acidity. The Tinto Fino variety has adapted wellto the altitude and climate of Ribera del Duero. The vines are planted at almost 2800 feet, some of the highest planted in the region, and don't receive any artificial irrigation. No pesticides or chemical fertilizers are used in the Estate.
Felix Callejo uses grapes from its Estate only. The grapes are carefully selected and handpicked into small cases of 30 pounds. Carried in small quantities, there is no danger of having the grape skins break and sparking an undesired premature fermentation. The crates are taken directly to the winery, where they go through two selection tables, the second one selecting grape by grape and discarding any imperfect grapes. The Crianza wines are made with grapes coming from vines that are at least 35 years old. For the Reservas and above, the plants are at least 50 years old.
Only native yeasts are used. Aging takes place in oak casks (70% French 30% American) for a minimum of 12 months for the Crianza wines and 18 months for the Reservas.